Back to Colette's Patterns... Click HERE!
Designer Profile
COLETTE WOLFF: A STITCHER'S JOURNEY

**** November 2020 - We are sad to announce that Colette has passed away. She will be deeply missed by dollmakers worldwide. Her family is keeping her doll designs available for future generations of dollmakers.
Cloth, a sewing machine, and a threaded needle have been constants in my life. I study stitched fabric disciplines, I create with and write about stitching fabric.
My Mother taught me to sew on my Grandmother's treadle sewing machine when I was a child. My Grandmother taught my sister and me to embroider on the stamped pillow cases and hand towels that we would buy at our local Woolworths' dime store. I remember helping my Grandmother tie a pieced quilt that was spread out on the dining room table. In my teens I started making clothes for myself using that same treadle sewing machine and patterns from Simplicity, Butterick, and Vogue catalogs.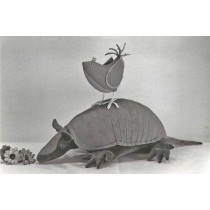 I like to say that I'm self-taught in the fiber disciplines I work within—sewing, cloth dollmaking, soft sculpture, quilting, embroidery, garment making, fabric manipulation—but that doesn't credit the many patterns, books, magazines, and museum exhibitions that were my surrogate teachers along the way.
In the late 1960s, a craft shop owner talked me into teaching a quilting workshop. My local library had two quilting books. I checked them both out, studied, designed a quilt block project that included both appliqué and piecing challenges, and devised a lesson plan that kept me one class ahead of my six students for six sessions. That was the first among years of positive, learning-while-doing-and-teaching experiences.
I also owe a debt to the negative learning experiences I had. When I wanted to learn from what others had done, I was often frustrated by sloppy patterns and inadequate, inaccurate instructions. Fueled by frustration --- and naïve confidence --- I thought I could do better.
PLATYPUS was invented to publish the patterns and instructions for dolls and toys to stitch and stuff designed by Colette Wolff. It began in 1969 with one mimeographed pattern and a classified ad in a folksy women's magazine. A year later, the first PLATYPUS mail order catalog included six patterns. Inventory continued to grow and successive catalogs expanded accordingly. Sales increased during the '70s and '80s when display ads for PLATYPUS patterns appeared regularly in national craft magazines. I also wrote articles about dollmaking and quiltmaking for these magazines and traveled to teach classes and seminars around the country.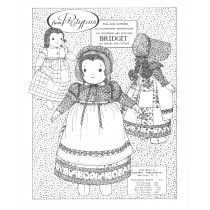 The last PLATYPUS catalog-in-print, #11, was published in 1991. Entitled "Special Things to Sew," it offered 50 items: two informational booklets, 10 pattern leaflets, and 38 pattern booklets, 15 of which included patterns for multiple items-to-make. PLATYPUS discontinued operations in the mid '90s, but requests for PLATYPUS patterns and instructions never ceased.
The research required for one of my PLATYPUS pattern projects, a fashion doll wearing authentic 18th and 19th century garments, introduced me to fabric configurations I never knew existed. Intrigued with the possibilities of viewing these three-dimensional techniques separated from their usual dressmaking environment, I gradually understood the potential for sculpted surface design inherent in fabric maneuvered with needle and thread. But first I needed a "vocabulary" of techniques. In 1996, The Art of Manipulating Fabric by Colette Wolff, a manual of three-dimensional textile techniques, was published.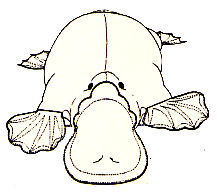 Textile art describes work created using fiber materials and fiber construction. It's an inclusive artistic discipline — for me, a place where the skills acquired for PLATYPUS and The Art of Manipulating Fabric merge. As a textile artist, I can choose from that diversity of techniques to make one-of-a-kind sculpted works of stitched fabric. The process stimulates and absorbs my creative imagination.
Colette Wolff
Back to Colette's Patterns... Click HERE!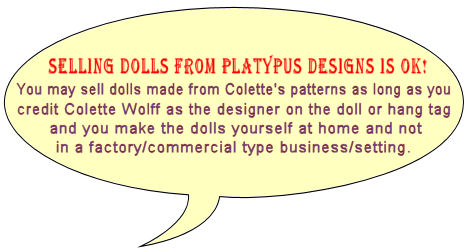 Recent Posts
Doll Making Seam Strengthening Technique Using Grrrip Glue and Applicator BottleTaught by Judy …

Back to Colette's Patterns... Click HERE!Designer ProfileCOLETTE WOLFF: A STITCHER'S JOURNEY****&nbs …

Dolls Made from Judi's Designs by Customers! Find Judi's Cloth Doll Patterns by Category: …